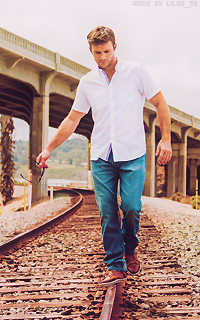 potion maker

pseudo :
Moonshoes ou sinon Ari ( oui tu peux te permettre)
face claim :
Scott Eastwood, Shiya (ava)

Sujet: I'm tired of being your hero, find someone else ( Lyanna) Jeu 4 Aoû - 6:11

---


Mon boulot était d'arrêter des mages noirs. Sauver le monde. Être un justicier. Pourtant, j'avais bien l'impression que parfois, ce n'était pas ça du tout. Qu'il y avait un petit plus. Que j'étais payé pour porter le monde sur mes épaules. Bon oui, d'accord, je me sentais d'une humeur particulièrement larmoyante, mais en même temps, la passion dévorante que j'avais à l'époque était toujours là, mais en même temps, j'avais du mal parce que j'avais l'impression que quelque chose me glissait entre les doigts.  Quelque chose qui n'était pas là quand je n'étais qu'un enfant, un adolescent qui pensait connaître le monde. Bien sûr, on apprend à connaître les autres, on apprend à se connaître soi-même. On comprend les limites. On comprend ce qu'il faut et ne faut pas faire. Il y a plein de nuances que l'on voit en vieillissant. La seule nuance que moi, je n'avais pas vu, il s'agissait de tourner la page. De réussir à tourner la page parce que ça, il s'agissait d'une chose que je n'arrivais pas. Je fermais les yeux et je revoyais le passé, comme s'il était mon présent. Je revoyais cet uniforme, cette maison qui était la mienne. Et je revoyais les couloirs, je revoyais ce que j'avais aimé plus que tout. Poudlard.

Bien sur, ça faisait un moment que c'était terminé pour moi. Un bon moment même. Et j'étais à ce foutu box où je regardais les portraits et tentaient de les associer à des gens que je croisais dans la rue, sans faire vraiment attention. Le temps pouvait être long parfois. On pouvait être payer à rien faire également. Il y a des jours où à dire vrai, je m'en foutais totalement. Comme il y avait des jours où je voulais changer la face du monde. Tout dépend de l'humeur pas vrai? Alors, pour faire une histoire courte, moi contre le monde et le monde contre moi. Moi contre ce boulot qui était mon rêve de gamin.

Je n'étais pas malheureux, juste que je me cherchais. Beaucoup. Me voici à 25 ans, le quart de siècle sans rien ni personne mis à part un chat. De quoi paniquer n'est-ce pas?  Je me disais que tout allait bien aller, que je finirais pas trouver le bon chemin, mais en réalité, le bon chemin n'est jamais celui que l'on croit. Donc, la vie est juste une salope qui se fout de notre gueule. Voilà.

Donc me voici, me baladant dans les vastes contrées de l'Angleterre pour oublier que demain, j'entrai en service pour protéger une personnalité. Comme si nous les Aurors, nous étions les meilleurs pour ça. J'avais bien l'impression que ça allait être chiant et énervant, mais qu'est-ce que l'on peut faire d'un Auror qui n'a aucun partenaire et qui n'est pas près d'en avoir hein? On l'assigne sur un boulot de merde bien entendu parce que c'est que les boulots de merde qui sont des boulots solo. Langue de vipère le retour. Soupirant longuement, je me passai une main dans les cheveux en secouant la tête, comme pour me dire non à mes propres pensées. Me voici au milieu de nulle part et je devais faire comme si de rien était, comme si tout allait bien. Bien sûr. Pourquoi pas?

« Sérieux Edan, t'es rien qu'un con de m'avoir fait jurer ça... J'ai foutu ma vie en couilles pour toi et c'est en crevant que tu me remercies? Salopard.»   Le dire à voix haute me faisait beaucoup plus de bien que je ne voulais l'avouer. Parce que ce n'était pas quelque chose que je pouvais gueuler autour de Sacha. Bien que je ne l'avais pas gueuler à ce moment-ci non plus. Bref.

À dire vrai, j'allais poursuivre longtemps avec cette monotonie déprimante et chiante, mais il s'avère que quelque chose attira mon esprit. Mon regard. Mon être. Quelque chose qui dansait sur une maison comme une invitation grotesque à une salsa. Feu. Le feu. Puis d'un coup, les cris au loin me parvinrent et les réflexes du preux chevalier donnèrent un grand coup de talon à ceux de l'homme maussade. Marche rapide, puis course, puis froncement de sourcil avant de se rendre que j'étais déjà aller là-bas et que je pouvais facilement transplaner. Sorcier be like.

Bien sûr, je suis un sorcier. Bien sûr, les gens autour sont des Moldus. Donc, autant se la jouer chevalier et foncer dans le tas. N'écoutant pas du tout ce qui se passait, je fonçais droit dans ce taudis, si je puis m'exprimer ainsi et jetai un oeil à l'intérieur tout en n'oubliant pas de transformer mon visage en une bulle, air quand tu nous tiens, à l'aide d'un sort. Enfin, pas une bulle à proprement parler, bref vous avez saisi ici le concept. Et c'est là que je la vis. Enfin sur le coup, il ne s'agissait que pour moi d'une simple personne. Et ce fut en m'approchant que je me rendis compte de ce qui se passait. Réellement. Me mordillant les lèvres, je passai mes bras autour du corps de la jeune femme et ressorti, pour le bien du public. Pour éviter d'avoir l'air d'un fantôme surtout. Dans tous les cas, j'esquivai les secours et pouf, transplanage d'escorte et quelques minutes plus tard, nous étions dans ma chambre à l'hôtel, loin de tout cela. Loin d'une agitation certaine, loin de la mort. Et moi, je devais faire face à un fantôme. Fantôme que je ne pensais pas revoir.

Il y a des moments où on perd les pédales, des moments où on arrive et on  ne sait pas quoi faire. Je dirais bien que c'était un de ses moments là. Je la regardais, allongée sur mon lit, à moi, me disant que je devrai certainement aller voler un truc à oxygène d'ici les prochaines secondes dans l'hosto du coin avant de me dire que... merde j'étais un sorcier.... et que la bulle devait encore fonctionner. Alors bulle ce sera. Et pouf, d'un coup de baguette, la jeune femme devint une Têtenbulle. « Ouais c'est ça, fait moi un doigt d'honneur le destin. Te gêne pas surtout.»   Certaines blessures ont besoin de temps pour se guérir et d'autres, bah elles ne sont que des connasses qui te font souffrir. Les deux mesures quoi.



_________________





She exists as in dreams. She has no sense of reality. She gets nervous because people are always interrupting her daydreams. — Clarice Lispector.